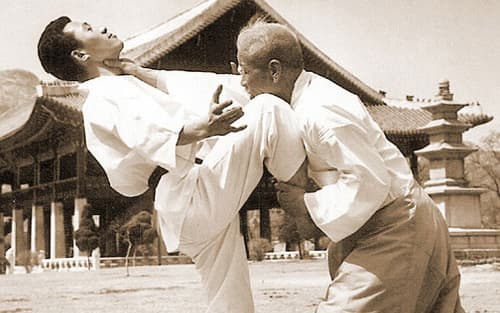 Song Deok-ki was born in 1893 and learned Taekkyeon from his eldest brother at the age of 13, and from the age of 16, he learned Taekkyeon from Im Ho, who is famous for Jangan(the capital of Joseon) Taekkyeon. Song Deok-ki received intensive training for four years, and later learned Taekkyeon for 18 years until Lim Ho died at the age of 52.
Also, for other activities, Song Deok-ki joined the army at the age of 24 and taught modern sports such as iron bars and vaults, and showed his side of the rope in front of Emperor Gojong. At the age of 26, after being discharged from the military, he has active activities and records enough to be named in the Joseon Football Tournament.
After liberation, at the age of 66, he demonstrated at the Joseon Training Center with Kim Sung-hwan, 10 years younger than him, who was taught by Im Ho in 1958 to commemorate the birth of President Lee Syng-man. In 1959, I left a photo with Park Chul-hee, an early senior Taekwondo teacher, for the exhibition of Korean culture at the 1960 Rome Olympics, and I tried to establish the Korea Taekkyeon Institute with Park Chul-hee's enthusiasm, but it was not achieved due to the background of the era such as April 19. In 1964, at the request of Kim Byung-soo, the founder of Taekwondo and founder of the natural world, he left a photo and was introduced to Black Belt Magazine, a famous American martial arts magazine, as the originator of Korean martial arts.
In 1969, we welcomed Ko Yong-woo, a high school student who lived in the same building, and Shin Han-seung, who organized the cultural heritage Taekkyeon, as a student. After the establishment of the Korea Taekwondo Association, in 1971, he taught Taekkyeon to Lim Chang-soo, a senior Taekwondo teacher, and also influenced the establishment of a name to break away from the Japanese name of Taekwondo.
Since 1983, he has been designated as holder of Taekkyeon, National Important Intangible Cultural Property No. 76, along with Shin Han-seung (below). Song Deok-ki was visited by many young students in the 1980s, and he ended his life in 1987 while conducting training activities for his students.
Teacher Song Deok-ki's life was an important activity in the field of Korean martial arts and sports. Song Deok-ki kept the function of Taekkyeon so that Taekkyeon, which was prevalent in the Joseon Dynasty and the late Joseon Dynasty, could continue to this day, and worked hard to transfer and maintain discipline, the origin of the Korean palace. It is also very meaningful that he was famous as an early soccer player in modern Korean sports.